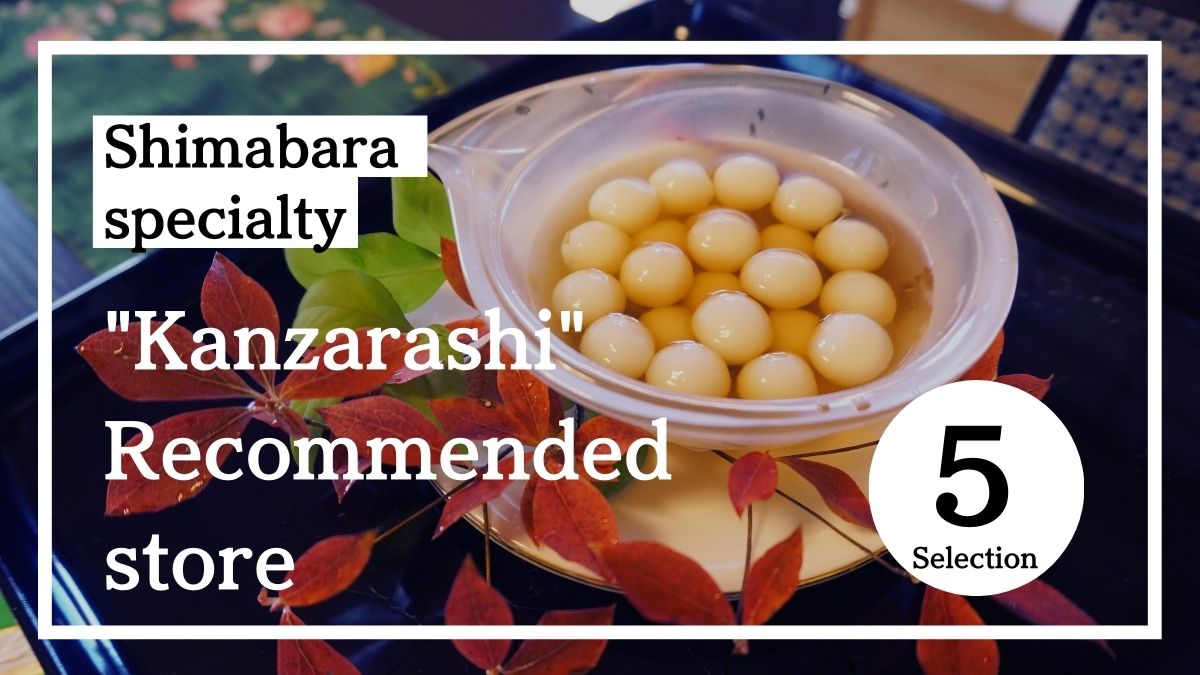 Kanzarashi is the representative sweet of Shimabara, the capital of water.
It is a small dumpling made from shiratamako, cooled in Shimabara's spring water, and drizzled with nectar made from honey or sugar, and is characterized by its elegant sweetness and smoothness.
This time, we will introduce 5 recommended Kanzarashi shops in Shimabara City!
*Please understand that the selection is based on personal preference m(__)m
What is Shimabara's specialty "Kanzarashi"? Where do you recommend?
Kanzarashi is a local sweet of Shimabara.
The origin of kanzarashi is that the raw material, mochi rice, is exposed to water on cold days, so it is called "kanzarashi."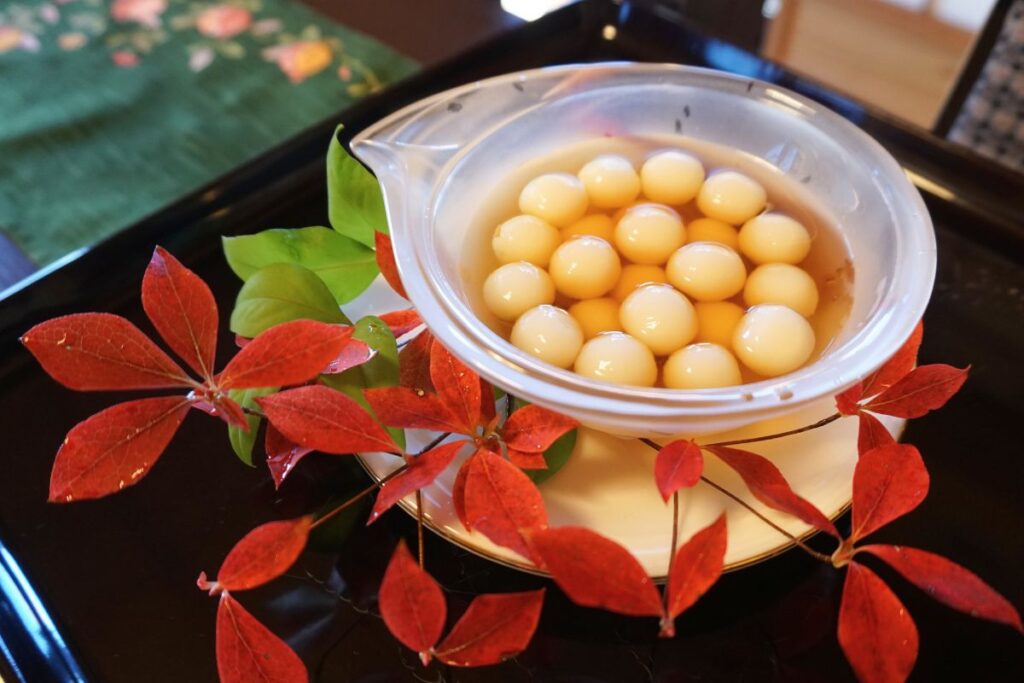 Kanzarashi is basically made with simple ingredients such as shiratama flour, honey, and sugar. As a result, you can really feel the flavor of the ingredients, making it a delicious dish that you will never get tired of.
Kanzarashi is such a simple sweet, but it is offered at many shops in Shimabara City. And while each store has its own unique characteristics, there are so many stores that offer it that it can be difficult to choose one.
This time, the author, who has eaten all the Kanzarashi in Shimabara City, will introduce carefully selected shops that he recommends!
"Ginsui", the originator of Kanzarashi
When talking about kanzarashi, we cannot forget about "ginsui."
Although it closed once after opening in 1915, it is the originator of Kanzarashi and has since made a comeback.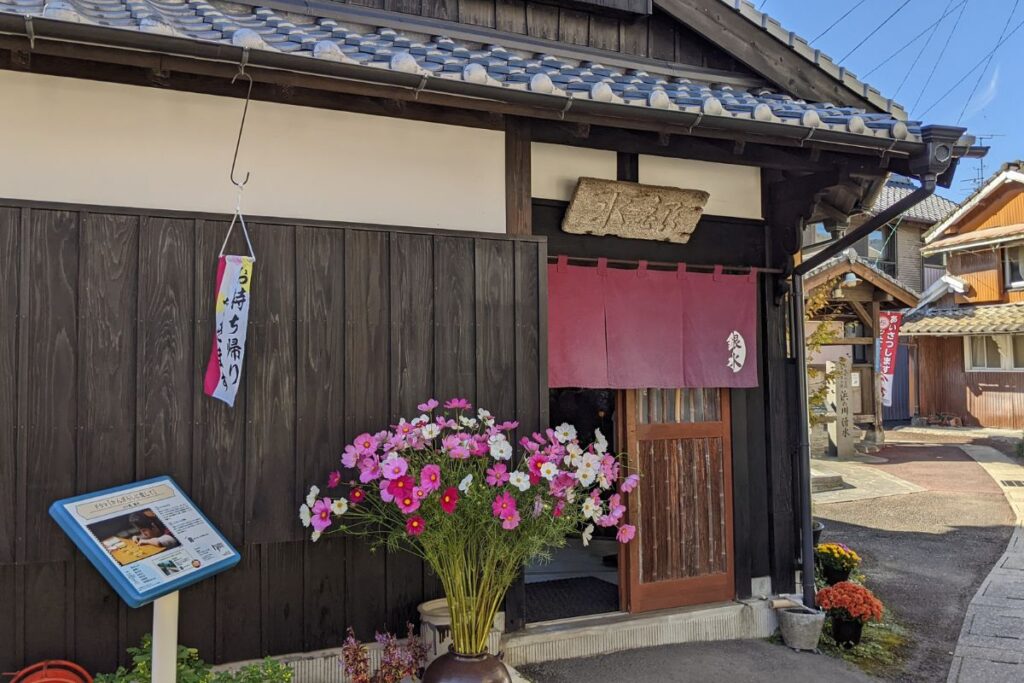 The Hamanokawa spring water attached to Ginsui has been an essential source of water for local residents since ancient times.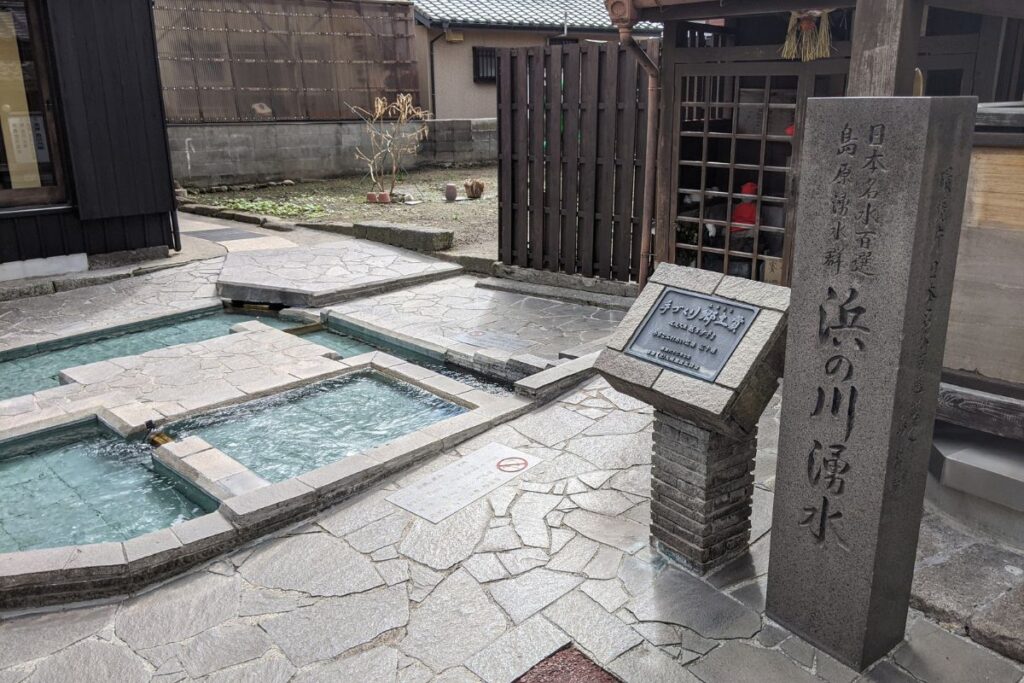 At Ginsui, you can truly enjoy the "royal" Kanzarashi. Coffee made with spring water is also good 😌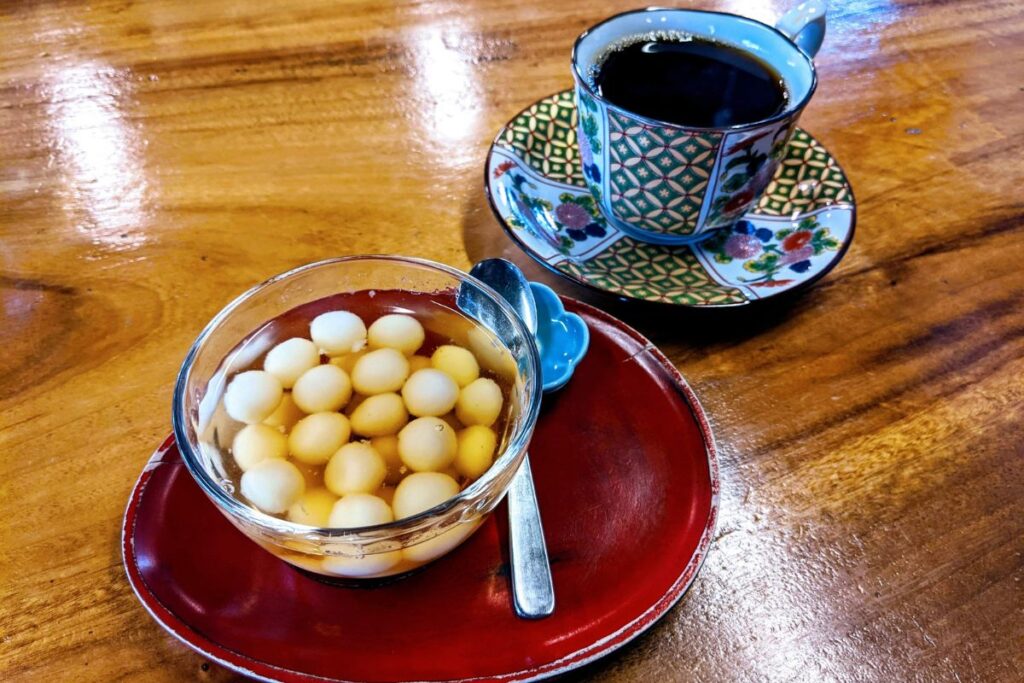 You can also enjoy a relaxing time in the Japanese-style interior.
It is often crowded especially during holidays, so please be careful. However, I highly recommend this restaurant to those who want to try traditional Kanzarashi first!
Evolution version of Kanzarashi "Cafe Cologne"
Next, I would like to introduce you to Cafe Cologne Kanzarashi.
This coffee shop is located near the "Carp Swimming Town", which is a tourist attraction in Shimabara.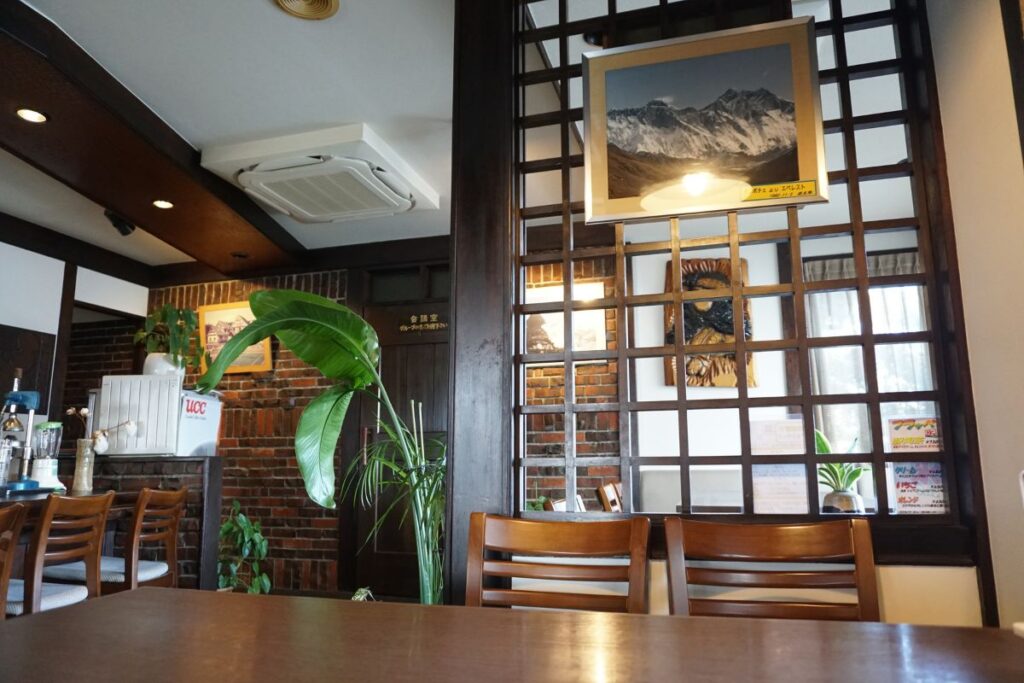 Cologne's kanzarashi is characterized by the fact that it contains ice. The ice melts little by little while you eat, allowing you to finish drinking the honey with a refreshing taste. Truly an evolved version of Kanzarashi.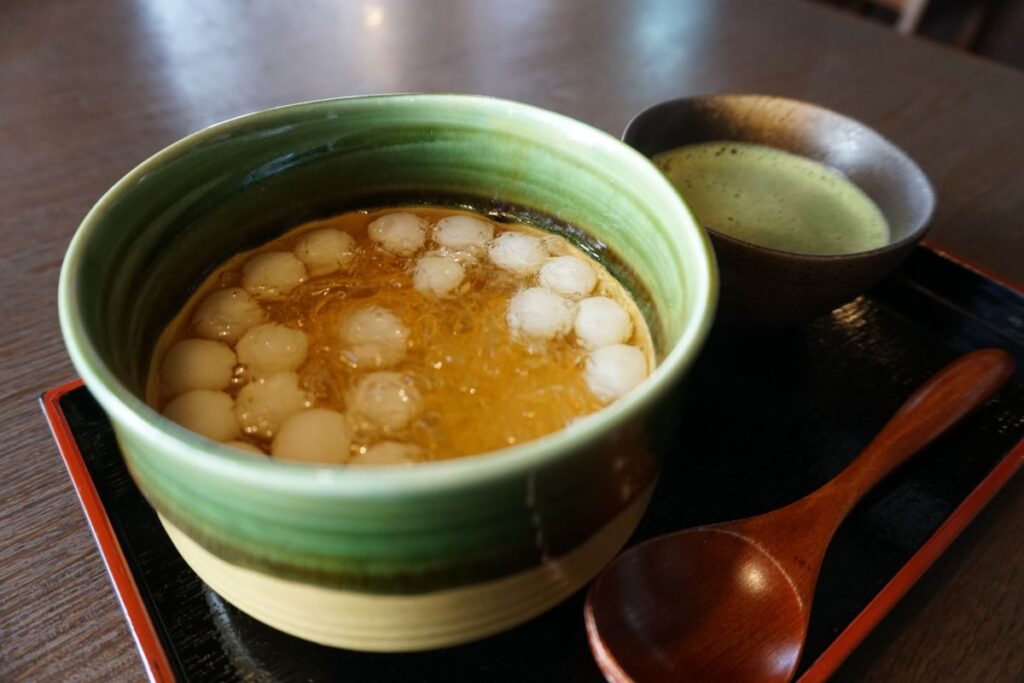 And there is another evolution of kanzarashi.
That is Kanzarashi Anmitsu😌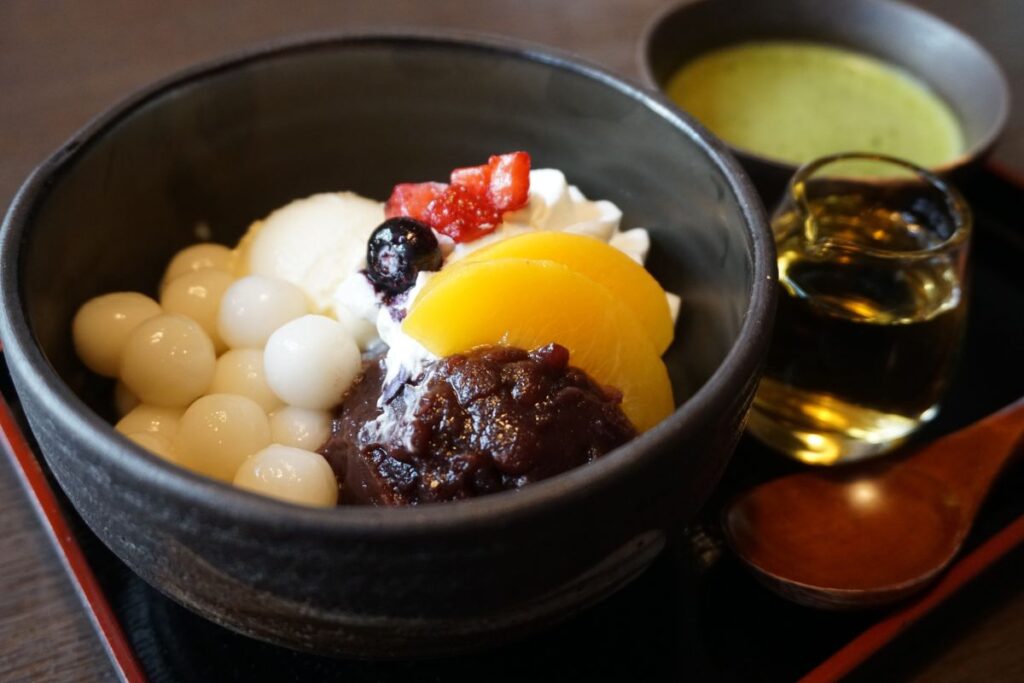 At first glance, it looks like an ordinary anmitsu, but you can adjust the sweetness by adding Kanzarashi syrup.
Needless to say, the taste was excellent ☺
This is a recommended Kanzarashi that is fun to look at and delicious to eat!
"Shimabara Mizuyashiki" where you can be healed by the space
※Mizuyashiki=A Japanese-style mansion with a view of spring water
The third thing I would like to introduce is the Kanzarashi of Shimabara Mizuyashiki.
The atmosphere of an old folk house with a pond will soothe you.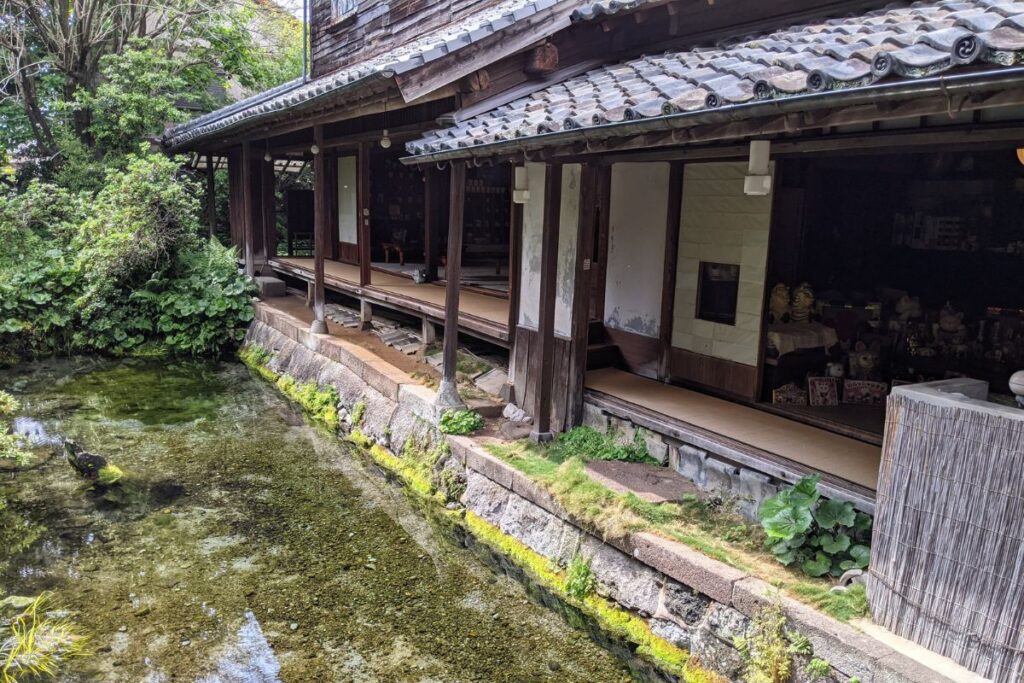 The number of lucky cats on the second floor of the building is overwhelming! Good luck and good luck.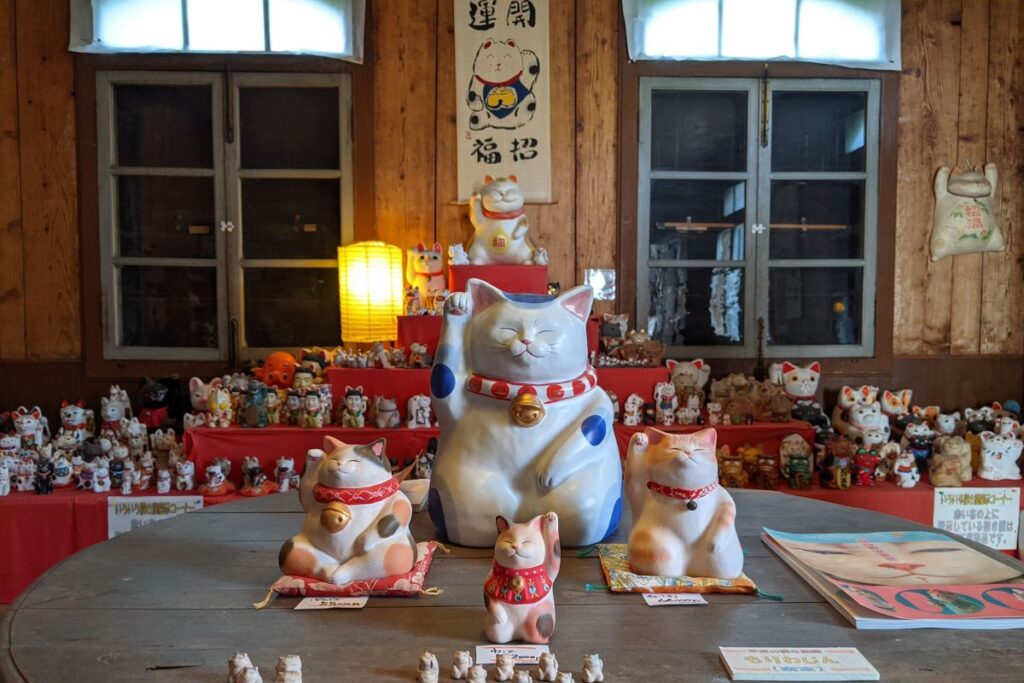 The simple kanzarashi was chewy and delicious.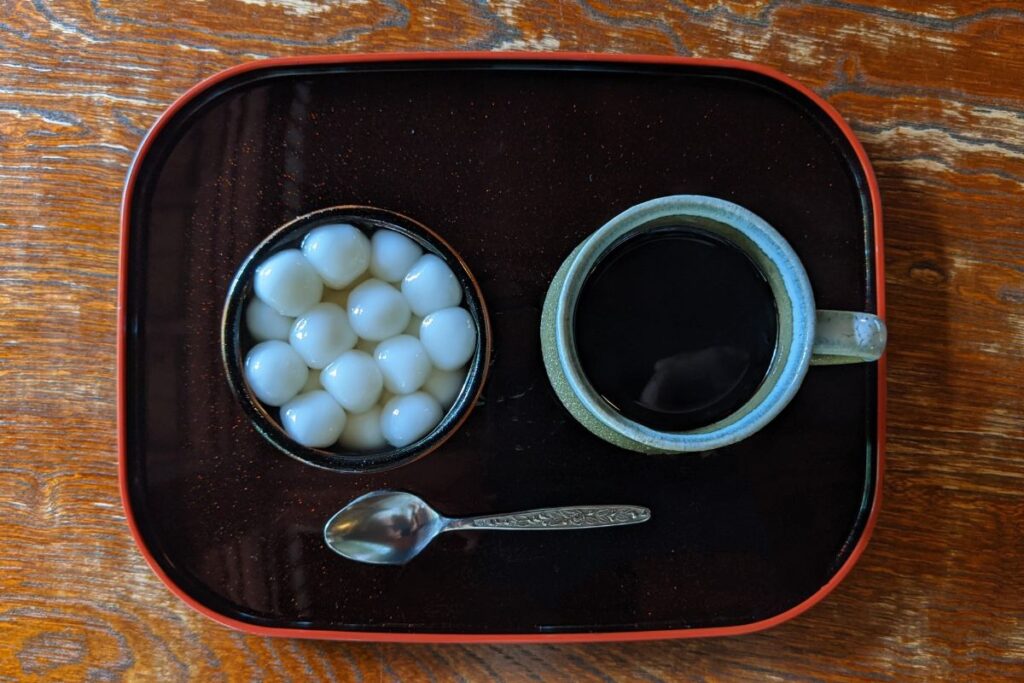 As the name Mizuyashiki suggests, the Kanzarashi you can enjoy while admiring Shimabara's spring water is the best.
This restaurant is recommended for those who want to spend a relaxing time while feeling the water capital of Shimabara.
Matcha making experience & vivid scent of goby honey "Yuzuan"
The fourth place I would like to introduce is Yuzu-an, located on Samurai Residence Street. The natural honey flag is a landmark.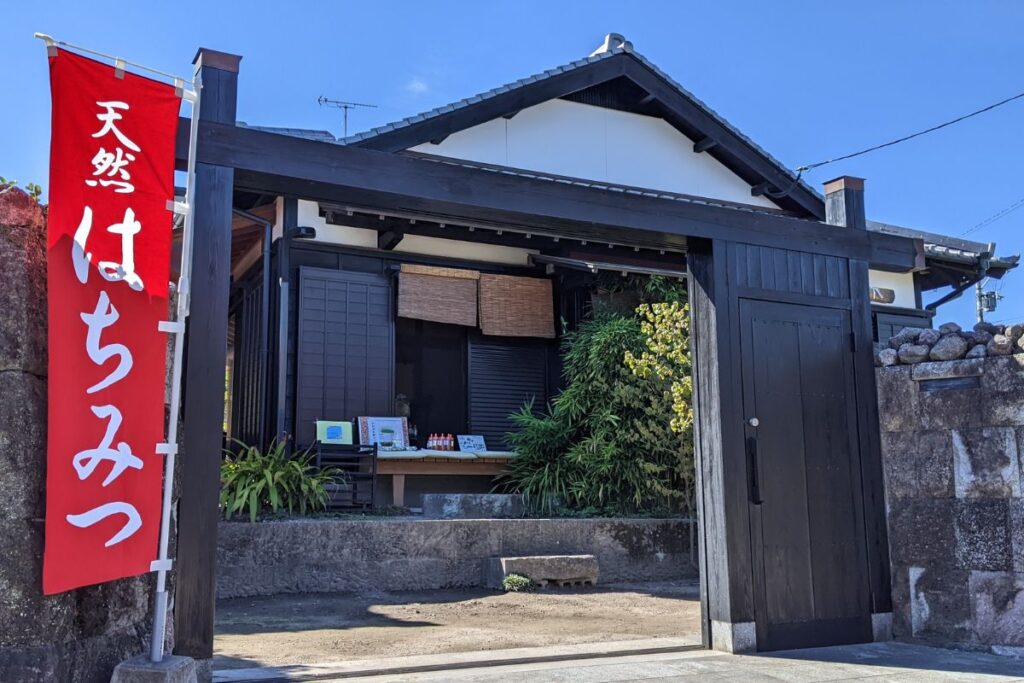 Yuzuan's unique feature is that you can experience making matcha tea. You can enjoy the Japanese atmosphere.
Kanzarashi to enjoy with the tea you made yourself. You can spend a relaxing time here.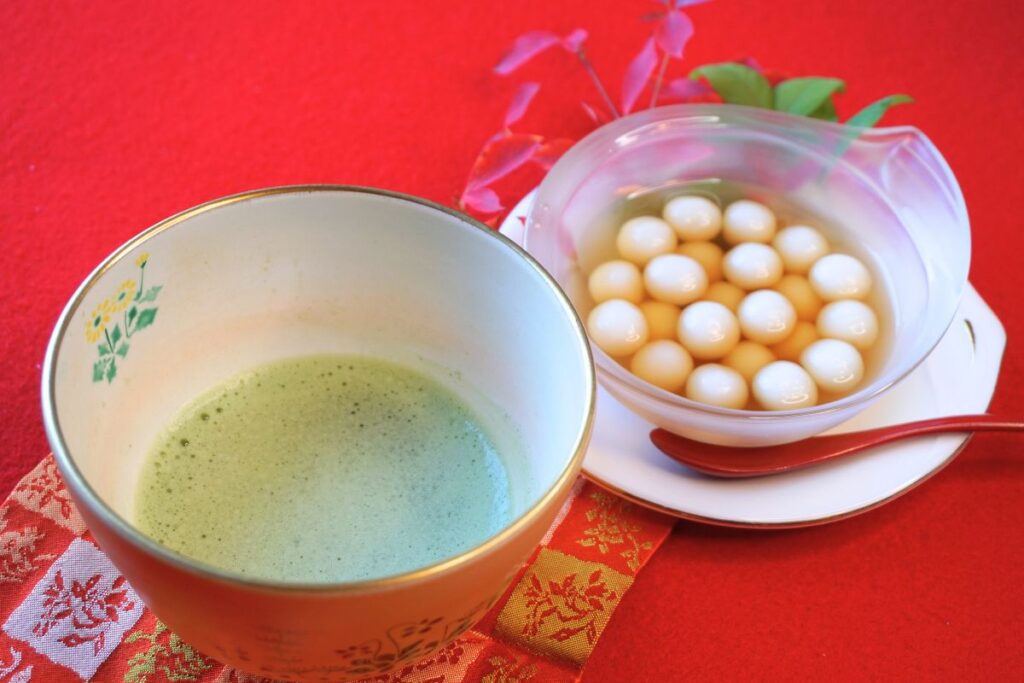 People tend to focus only on the matcha making experience, but the kanzarashi is also highly recommended.
The reason is the goby honey. Hazenoki has been actively grown in Shimabara. Goby honey has a bright flavor that is different from regular honey.
Kanzarashi nectar made with precious goby nectar is a must-try flavor.
Shall we make Kanzarashi? "Shimabara Yusuikan (Koi Cafe Yusuikan)"
Kanzarashi is made with simple ingredients and can be easily made at home.
If so, why not try your hand at making kanzarashi in Shimabara?
At Shimabara Yusuikan, you can try your hand at making kanzarashi.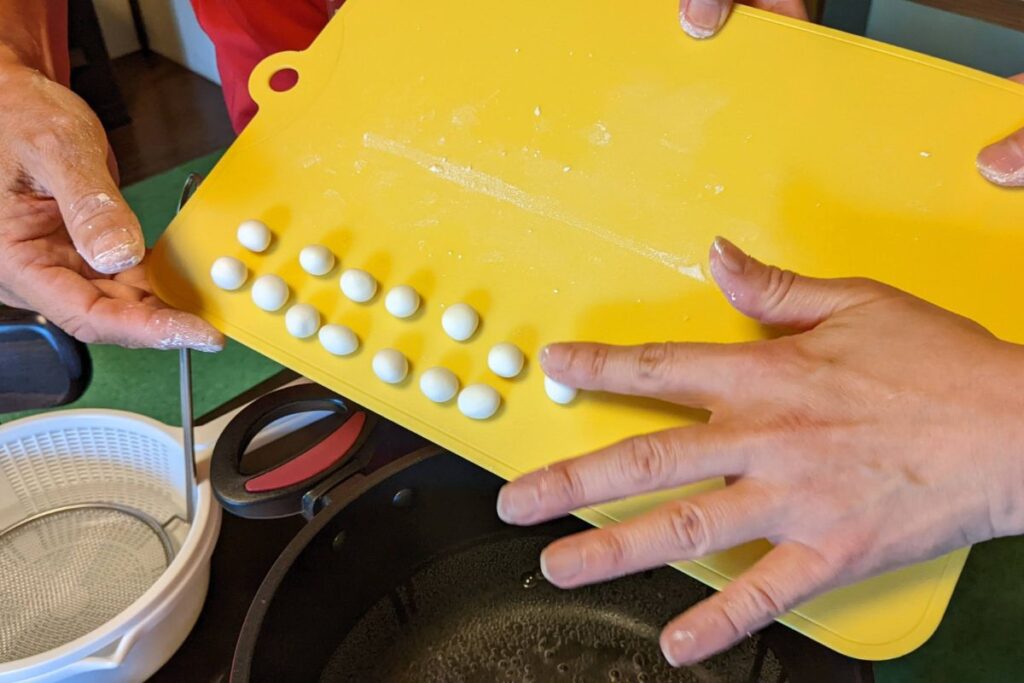 Making Kanzarashi is very easy. Just make shiratama and add it to the cooled honey. (In this experience, we will use pre-made honey.)
Observe the floating white balls.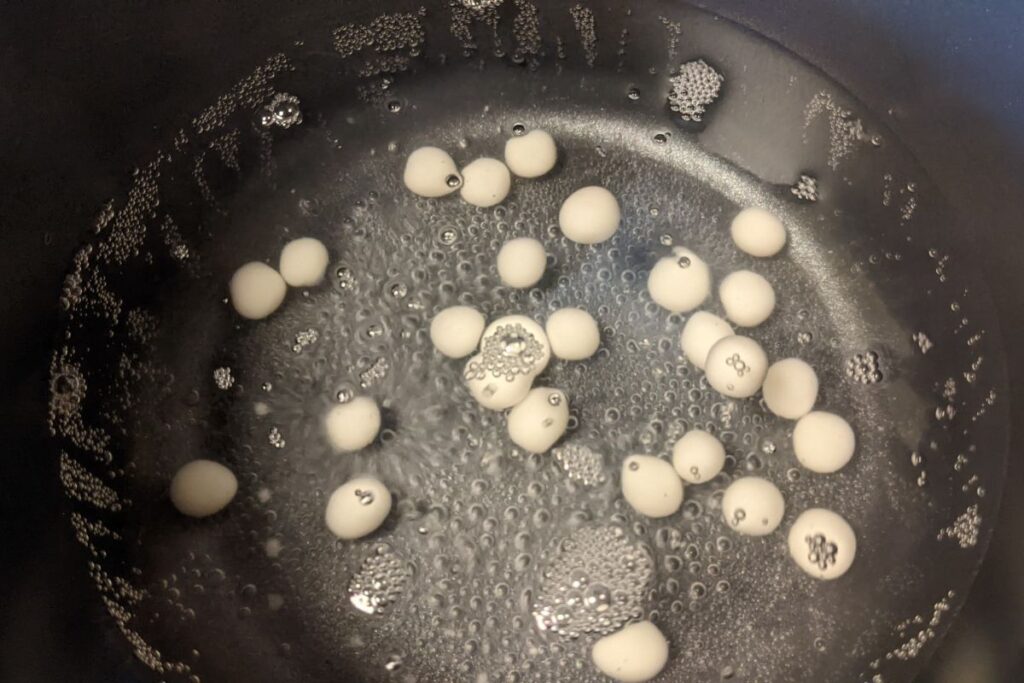 Completed in no time!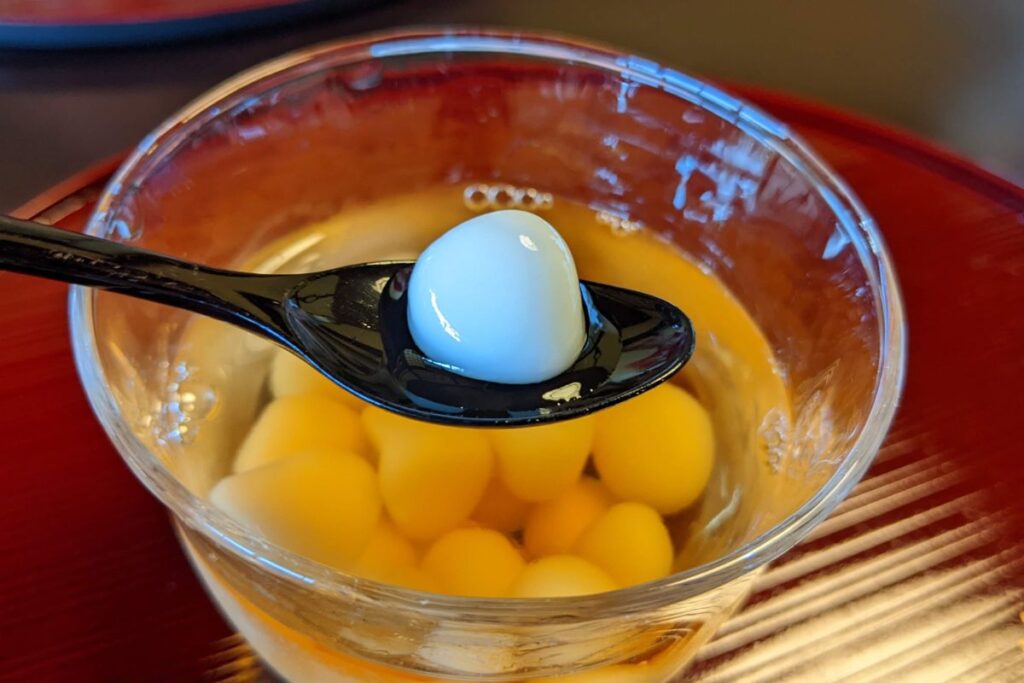 The taste of the Kanzarashi you made yourself is exceptional!
Another great feature is that you can ask the staff any questions you may have. I think it's a fun experience, especially for families.
*Only on Saturdays and Sundays, reservations must be made at least 3 days in advance.
[Reservations/Inquiries]
0957-62-8102 (Shimabara Yusuikan)
Summary of each store information
With that in mind, this time we have introduced recommended shops that serve Shimabara's famous sweet, kanzarashi.
Finally, we will summarize the information for each store!
Each store has a different charm, so be sure to stop by once.
You, don't aim to become a sommelier.
That's all from the scene.
*The information below is as of 2023.
Ginsui
Location: 2-1093 Shirato Momoyama, Shimabara City, Nagasaki Prefecture
Business hours: 9:00-18:00 *Local specialties are available from 10:00-17:00
Homepage: https://ginsui-shimabara.com/
cafe cologne
Address: 2-280 Takashima, Shimabara City, Nagasaki Prefecture 855-0801
Store holidays: Irregular holidays
business hours:
(Mon) – (Sat) 10:00-22:30
(Sun) 11:00-18:00
Instagram: https://www.instagram.com/cairn_coffee/
Shimabara Mizuyashiki
Address: 513 Mancho, Shimabara City, Nagasaki Prefecture 855-0804
Store holidays: Irregular holidays
Business hours: Around 11:00 a.m. to around 4:00 p.m. *Gate closes after 4:00 p.m.
Homepage: http://mizuyashiki.com/
Yuzuan
Address: 1969-3 Shimonocho, Shimabara City, Nagasaki Prefecture 855-0052
Business days: Irregular holidays
Shimabara Yusuikan (Koi Cafe Yusuikan)
Address: 2-122 Shinmachi, Shimabara City, Nagasaki Prefecture 855-0803
Business days: Irregular holidays
Business hours: 9:00-17:30 (menu serving time: 10:00-16:00)
Homepage: https://www.shimabaraonsen.com/information/archives/293
Kanzarashi recommended store map